This shop has been compensated by Collective Bias, Inc. and its advertiser. All opinions are mine alone. #BigLotsReady #CollectiveBias
I'll never forget my freshman college dorm room.  It was a small room, it was outdated, and I had to share it with someone who I had never met.  None of that mattered.
The dorm room was mine, and it was a blank slate for me to be creative and personalize just the way I wanted to.  To me, my dorm room was absolutely perfect!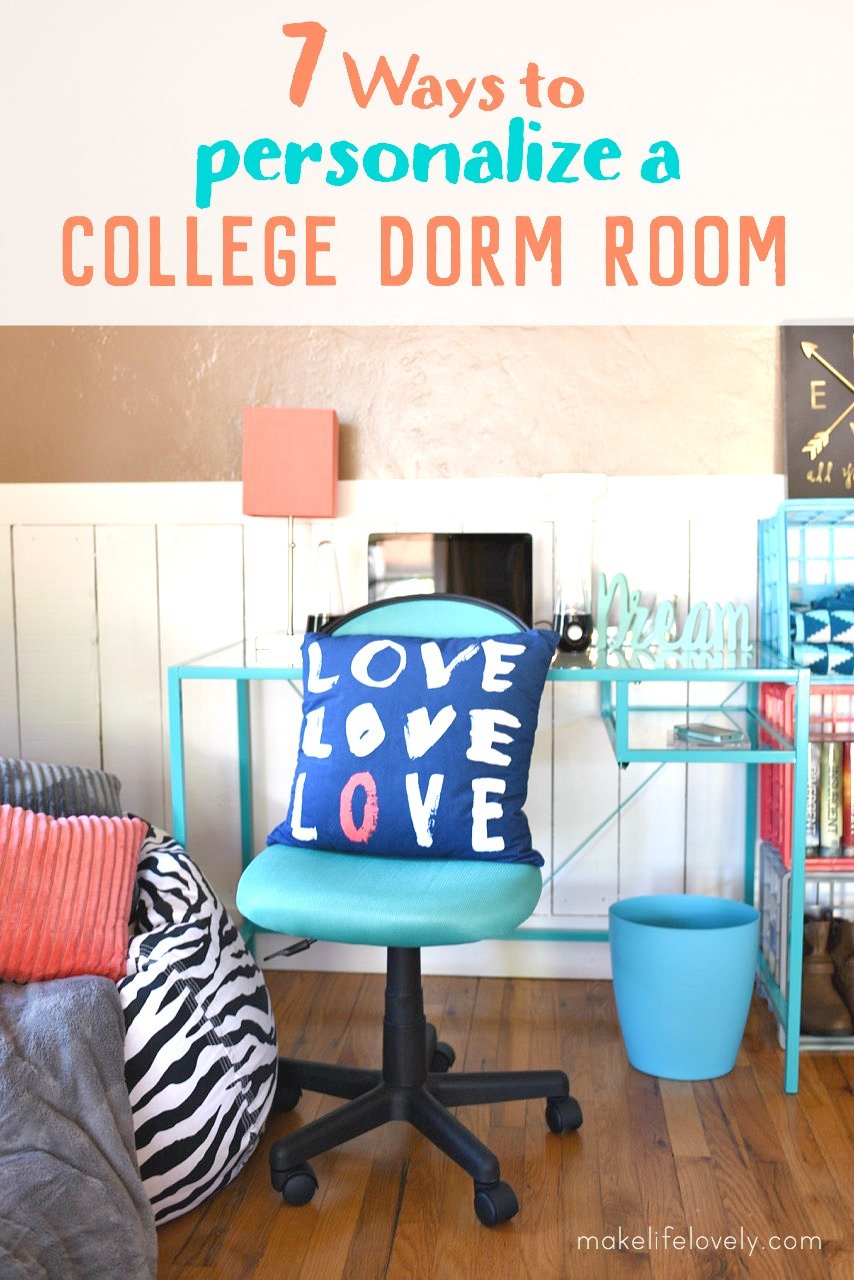 It's almost time for back to school and back to college, and today I'm sharing seven ways to personalize a college dorm room and make it your own! 
Whether you're looking to decorate your freshman dorm room this fall or sending a loved one off to college, these practical tips will help turn those boring dorm rooms into a cozy and comfortable space that you will be happy to come home to.
7 Ways to Personalize a College Dorm Room:
#1  Get Comfortable
You want your college dorm room to be your home away from home, so add comfortable touches that make your room feel comfortable and cozy.
Soft blankets and colorful accent pillows create a comfortable space for studying at your desk, relaxing on the couch, or power-napping on your bed.
#2  In the Zone
Let's face it, as a college student you do a lot of studying and cramming.  A LOT.
You'll spend more hours than you can count at your desk and computer, so it's a good place to spend some extra time to make it look cute and feel inviting.
I found the cutest aqua glass turquoise desk at Big Lots recently.  Big Lots has a huge variety of big and small items that are perfect for adding some personality and fun to your college dorm room.
To spruce up a desk, all you need is a lamp, a couple of accent pieces, and some photos or artwork.  Now your desk is a little less bland and lot more fun!
#3  Get in the Groove
You have your own unique music styles and taste, so what better way to add some personality to your college dorm room than with your favorite music?
Make sure you're heading off to school with speakers, cords, and all the electronic gadgets you need so you can unwind after a long day of classes to your favorite tunes.  Speakers that light up and dance to your music are fun options, as are many of the other cool electronics you can find at Big Lots.
#4  Make it "You"
There are some things that your friends say are just "so you,"  right?  For me, it's my love for anchors and all things nautical that my friends know I will love.  For you, it will be something different.
No matter what it is that makes you you, be sure to add some of that to your room!
Whether it's the perfect wall hanging in your favorite colors, that special piece of art that your friend made for you, a photograph of your dream destination, or that special souvenir you bought on your favorite trip, be sure to add those special things to your room that speak to you and define you.
#5  Cut the Clutter
It's going to be hard to let your amazing personality shine through in your college dorm room if it's cluttered and messy, right?
Only keep things that you absolutely NEED.  Let's face it , college dorm rooms are tiny.  There's just no extra space for clutter and non-essentials.
Buy things that can do double duty.  Colorful plastic crates (like these from Big Lots) are perfect for stacking in your closet and making shelves or for storing your things neatly under your bed.
When it's time to move rooms or go home for the summer, those same plastic crates are the perfect durable containers for packing up all your things for the move.
Your place is going to be much more relaxing if it's clean and clutter-free!
#6  Just add Color
Look at your college dorm room as a blank canvas.  The best thing to add to a blank canvas is color!
Buy your essentials in your favorite colors to add more of your personality and style to your space.  Colorful geometric towels, bold pillows, and colorful prints can add a lot more fun to your place and give it the extra color it needs to shine!
#7  Shop Smart!
College is expensive, and on a college budget, you need to get a lot of bang for your decorating buck, right?
Seriously, check out Big Lots.  I was surprised at all the larger furniture they had like couches, desks, chairs, and more, styles and assortment vary by store.  You can also shop online at Biglots.com for extra convenience.
College is one of the best times of your life.  I have so many good memories of my college days.  Get creative and use these tips to make your dorm room feel like your cozy home away from home!
What are your college essentials that you just couldn't live without?  I think mine would have to be my computer. 😉