This post brought to you by Snack Pack. The content and opinions expressed below are that of Make Life Lovely.
Now that I'm back to packing lunches for my kids after the holiday vacation, I wanted to make my kids' lunches a bit more fun!  I designed some cute free printable lunchbox notes for me (and for YOU!) to place in the kids' lunches, because who doesn't love getting a bright cheery note in the middle of their day?
One page has eight lunchbox notes on it- just print and cut!  SO easy, and a fun way to make your child's day.
You can print my free printable lunchbox notes HERE.
Another way I like to make my kids' lunches more fun is by putting a Snack Pack in them.  My family's favorite flavor is chocolate, so I love to stock up on them for my kids' lunches (and for my husband and I and our toddler son too!).
Snack Packs are made with real nonfat milk and fortified with as much calcium as an 8-ounce glass of milk, which makes me happy.  They also contain no preservatives or high fructose corn syrup.  They're delicious and easy to open thanks to the newly redesigned lid, which makes my kids happy!  You can find Snack Packs in the baking aisle.  You can also head to www.SnackPack.com for more information.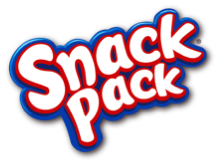 So what is your favorite Snack Pack flavor?  How do make your kids' lunches more fun?
I'd love to hear.  Just leave a comment below!