This healthy football party has been compensated by Collective Bias, Inc. and The Coca-Cola Company. All opinions are mine alone. #ReadyForKickoff #CollectiveBias
The big football game is just around the corner, right after we made all those New Year's resolutions we're trying so hard to keep.  I've got some great game day healthy football party ideas for you today that are lighter, less greasy, less fattening, but just as delicious as traditional football food!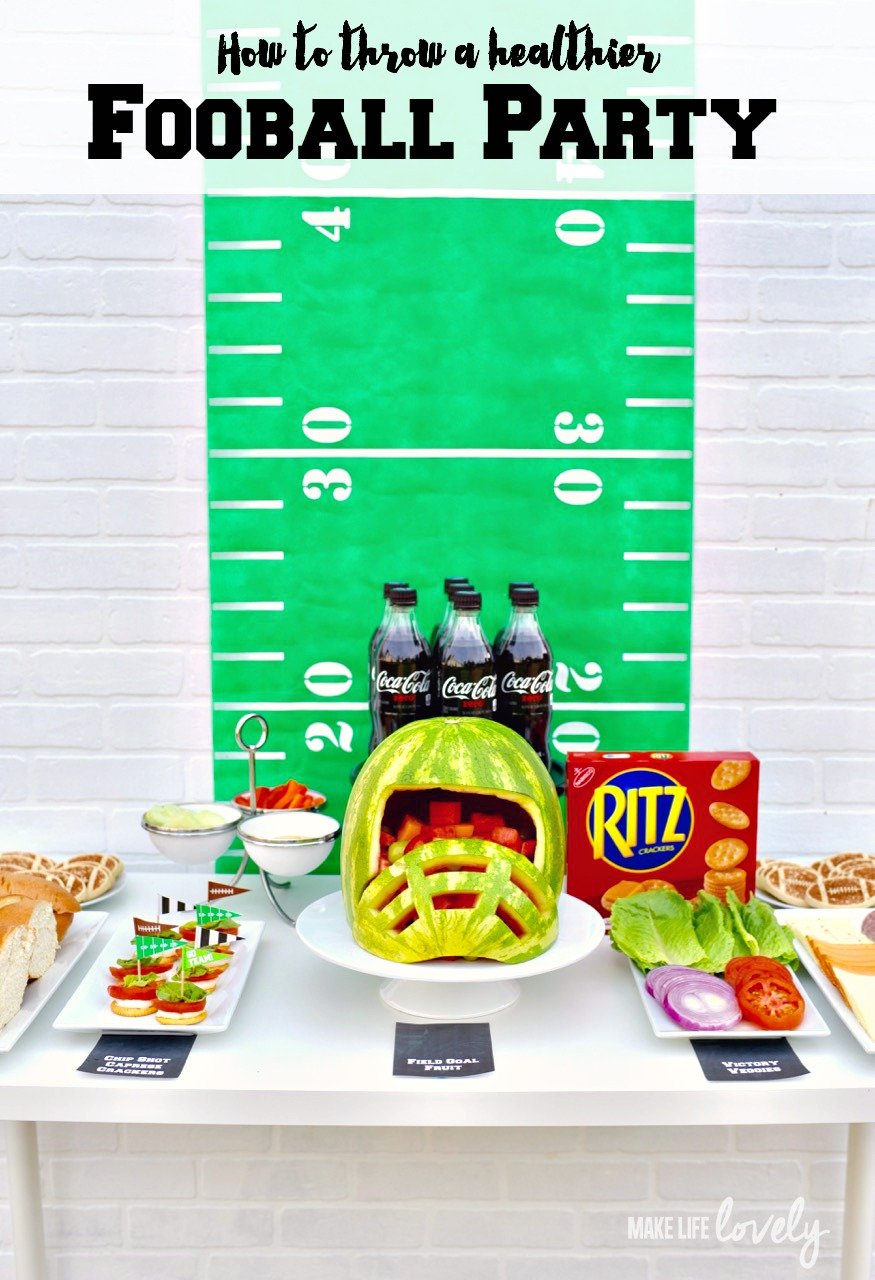 Plus I've got an easy and SO delicious Caprese appetizer recipe to share with you, along with a really fun and unique way to serve up some watermelon and fresh fruit.  Keep reading for all the details!
Healthy Football Party Decorations
First you'll need to get prepped for the party with a few decorations.  I kept my party light and clean with a white table and a white brick background.
To add a pop of color, I hung a football field floor runner from up high vertically down the table.  I love how simple this easy football backdrop is- easy, and looks great!  Bonus tip- use hang the runner from hooks that don't damage your walls!
To label the food, I created some chalkboard football labels.  Of course I used football words in each food description. 😉
You can download all the chalkboard football labels here, here, and here.
Healthy Football Party Food
To keep the food lighter and less greasy than typical football food fare, I decided to create a DIY sandwich bar.  Guests get to make their sandwich just like they want it, which is a great thing for picky eaters (like my family!).
It also makes it easy for the host/hostess because you can prep the meat, cheese, and veggies ahead of time with little work, then just set it all out when the game is about to start.
Less time in the kitchen = more time cheering on your fave team with family and friends and laughing at all the creative commercials. 😉
I picked up everything I needed from Walmart- Coca-Cola Zero 6-packs, RITZ Crackers (keep reading for the appetizer I made with these), a big variety of meat and cheese from the deli, veggies for the sandwiches, bread from the bakery, fresh fruit, and more.  They had everything!
In the middle of the table on a black stand were the Coke Zeros.  With zero calories, it's a great way to enjoy the big game without any guilt or breaking of your new resolutions for the year.
You can show off your amazing hostess skills by serving fresh colorful fruit in a watermelon football helmet!  Yes, a watermelon football helmet.  It's much easier than you think!
I followed the watermelon helmet tutorial I found here and made ours in about 10 minutes.  I love how it's the focal point of the table and is a great way to wow your guests!  Cute green field cups were perfect for guests to serve and eat their fruit in.
French bread from the Walmart bakery was sliced in half then cut into sandwich size pieces for easy sandwich-making.
I stocked up on roast beef, Cajun turkey, oven roasted turkey, sandwich pepperoni, and Genoa salami all from the Walmart deli to make the ultimate game day sandwiches.  Smoked cheddar (my favorite), pepper jack, and white American cheese were the cheeses I chose to top our sandwiches with.
Lettuce, red onions, tomatoes, cucumbers, colorful bell peppers, and a variety of spreads and slices were there too for guests to pick from.
Football-shaped sugar cookies were there too for those who wanted to indulge in a sweet treat.
One of my favorites at our healthy football party were the yummy Caprese cracker appetizers I made.  It has all of your favorite Caprese flavors packaged up deliciously on a RITZ Cracker for the football game.  They are SO tasty!
Caprese Crackers Appetizer Recipe
Ingredients:
RITZ Crackers
Fresh mozzarella
Fresh basil leaves
Tomato
1 Tbsp. Balsamic vinegar
1 Tbsp. Olive oil
Salt and pepper
Step 1.  Set out as many RITZ Crackers as you would like to serve.  Slice the mozzarella into medium-thick slices.
Step 2.  Slice the tomato into slices that are slightly smaller than the crackers.
Step 3.  To make the Caprese crackers appetizer, stack a RITZ cracker, then a mozzarella slice, then a tomato slice, then a basil leaf.
Step 4.  Mix the balsamic vinegar and oil together vigorously.  Use a spoon to drop a few drops of the vinaigrette on each appetizer.
Step 5.  Add some salt and fresh pepper on top.  Add a football pick through the middle to hold it all together.
These Caprese appetizers are SO delicious!!  The classic mozzarella, basil, and tomato flavors are even better with the slight crunch of a RITZ cracker underneath.
I love how easy this football snack was to whip up.  It looks sophisticated and tasted absolutely amazing, which is definitely a great way to score with your healthy football party guests!
Here are a few more of my favorite football ideas for the big game-
Here's more football parties, recipes, and crafts you'll love-
Free Printable Super Bowl Bingo Game
Free Printable Football Water Bottle Labels
Fabulous Football Party and Tailgating Ideas