With the first official day of fall being yesterday, I'll be going full steam ahead with all sorts of fun Halloween crafts and fall projects.  The rock pumpkins I'm sharing with you today are an easy and quick craft for kids using supplies you probably already have!
I'm excited to share this project as part of a Craft Lightning roundup with lots of other talented bloggers who are sharing Halloween ideas that can be completed in just 15 minutes or less (minus drying time).
I originally made these pumpkins last year with my daughter's kindergarten class, and they were a hit!  The kids were each so proud of their rock pumpkin!  I love how each pumpkin had its' own unique shape, size, colors, and look.
Rock Pumpkins
Supplies:
Round rocks with a smooth top (in all different sizes)
Orange spray paint
Craft paint in various colors
Paintbrushes
Twigs
Gue gun
Directions:
Cover your outside work area with cardboard or newspaper, and spray paint the tops of your round rocks.  Let dry, and repeat for the back side.  Let dry, and repeat as necessary until the rocks are completely orange.
Kids can either draw their faces on their pumpkin with a pencil first to get an idea of what it will look like, or just go for it and start painting right away.  Apply the paint one color at a time, let dry, then add the next color to avoid paint colors mixing.
Break or cut a twig into small pieces to look like stems, and use hot glue to carefully glue the stem onto the top back of the rock pumpkin.  Don't let kids use the glue gun- this is an adult job!
Now stand by and marvel at your kids' creativity!
These are the pumpkins that the kindergartners created last year.  Aren't they cute?!
The above photo came straight from my Instagram feed- I'd love to have you follow along on Instagram (@makelifelovely) for crafts, food, and a peek into what I like to do in my rare moments of free time!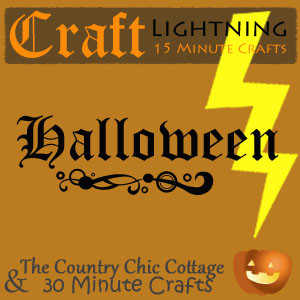 For more fall fun, you'll love this Free Printable Fall Bucket List Punch Card, this Spooky Spaghetti with Eyeballs, or this Spooky Halloween Tree!
If you liked this post, I would love for you to follow me on Facebook, Pinterest, and Instagram. Thanks for following!
Have a wonderful day!